UC Davis Pre-Health Conference: Role Call for All Future Health Care Providers
My sister, we'll call her Brandy, seemed to know exactly what she wanted to be when we started community college together. She wanted to be a doctor and spoiler she's currently a second-year med student at UCSF. I don't quite remember how we found out about the conference, but we went together in 2012 and again in 2013. My sister eventually transferred to UC Davis and continued to go to the conference until she was accepted at UCSF School of Medicine.
I'm not saying this conference is going to get you into one of the best medical schools, but it will definitely prepare you for the long road ahead if you're considering any graduate school.
Why I Rave About the UCD Pre-Health Conference Even Though I'm Not in the Healthcare Field?
Because students that attend this conference are at different stages of their academic careers. The conference hosts anywhere from incoming freshman to post-bac students to pre-health advisors and everyone wants to network. So if you have no idea where to start your pre-health journey, this conference is for you; and, even if you do know where to start, this conference will show you how to sell yourself to your dream schools.
What is the UC Davis Pre-Health Conference?
The UC Davis Pre-Health Conference is an annual gathering of leading doctors and medical school admission officers with the intent to inform and prepare potential healthcare students for the application process. Students have the opportunity to talk one-on-one with professional schools in a wide variety of healthcare fields in order to better understand what each individual professional school requires for their application process. Students are also offered a variety of workshops that they can attend which address issues such as securing mentors, writing a unique personal statement, how to go from a JC to medical school, and many more.
Who Should Attend?
Their website states that any college student interested in the fields of allopathic, osteopathic, podiatric, naturopathic medicine, veterinary medicine, pharmacy, dentistry, nursing, optometry, physical and occupational therapy, physicians assistant, and more.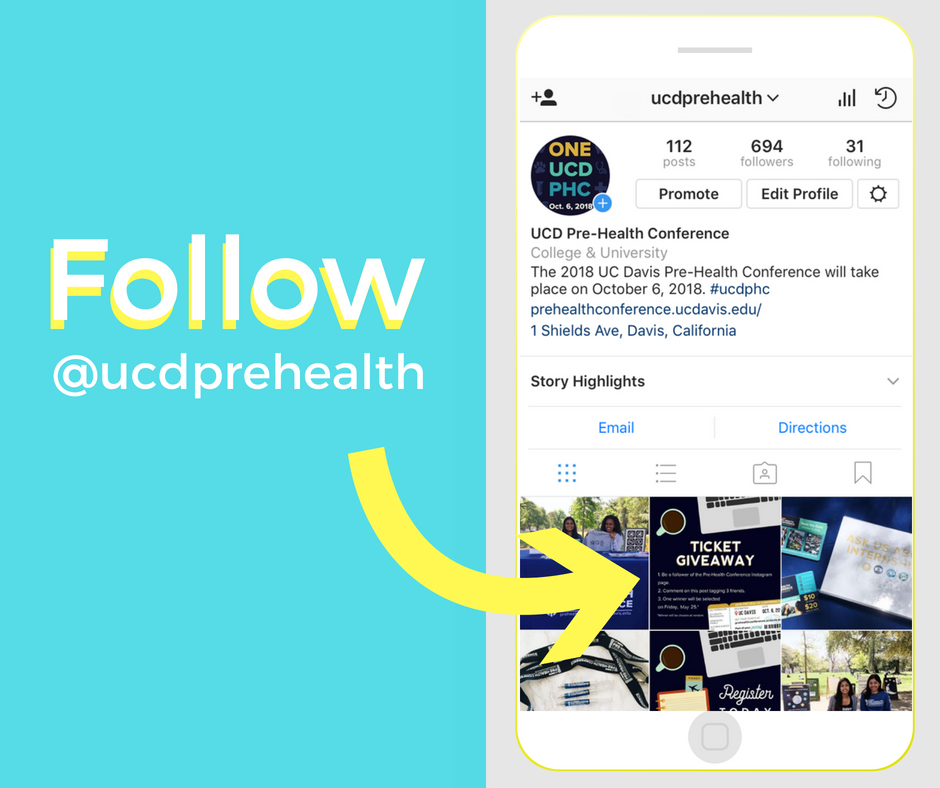 How to Get the Most Out of the Conference
Since the conference is annual and they don't plan on discontinuing it any time soon I recommend you focus your conference goals around what stage you're at in college. Freshman pre-med students are going to need different information and workshops than senior pre-med students who are applying and getting ready to graduate.
Freshmen
When you attend, focus on what you need for this stage of your pre-health career. If you're a freshman you're going to want to attend workshops that may be more hands-on with suturing and first aid demos. This will help you decide what health career is for you, maybe you thought you liked medicine, but you now saw something super interesting in pharmacy and want to explore that. Before you can do any planning, you need to know what health career you're going to commit to. The next important thing to focus on is what major you're going to have and depending on that major, how you're going to take all of the pre-req classes.*
Sophomores & Juniors
On the other hand, sophomores and juniors are going to need other information- no duh. Sophomore and junior year in college are probably the most grueling. The luster of college life has dulled and now you're just trying to survive the college rollercoaster ride. I feel you guys, I really do. If you're attending at this stage then you should really focus on the motivational speaking, listen to the main speaker and how they overcame the rollercoaster ride. Good thing that's in the morning, during the workshop times you should look into specific grad school requirements, how to secure letters of recommendation, and crafting the perfect personal statements.
Seniors
Lastly, you wonderful seniors need to focus on the application process and admissions. The conference has amazing workshops on diversity. So if you're rather LGBTQIA, an immigrant, or an undocumented student these workshops can help you navigate the application process and utilize your diverse background and experiences. There are also workshops on how to prepare for the interview process and even mock interview workshops for any specific field. If you're extra charismatic, you can hunt down the admission officers to your favorite schools and get a tip or two on what makes a strong candidate. If you're debating a gap year, this is also a great time to start networking with advisors, healthcare companies, or doctors to secure an internship.
However, the most important thing to remember about this conference is that you're on a journey and you're not alone.
You will be surrounded by thousands of students that are experiencing and feeling the exact same emotions and anxieties you are.
So, take in the experience. Take in the energy. Take in the scenery (because UCD is amazingly beautiful). And remember that no goal is too big to achieve.
*You do not have to major in STEM to apply to medical school.
UCDPHC Links
If you liked this post check out
If you have any questions about the UC Davis Pre-Health Conference or would like more information about mine or Brandy's experiences please comment below! Also, don't forget to subscribe to my page for weekly newsletters containing answers to questions I receive throughout the week and that keeps you updated about my Fresno grad school life. Thanks!